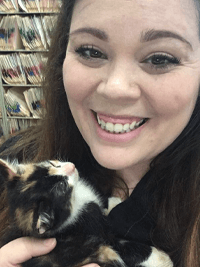 Lauren Giove
Lauren is from Columbia, Maryland and attended Towson University for her collegiate studies. She began her journey in animal care when she signed on with a general practice in 2013, then moved to Charleston in 2015 and worked as a Veterinary Technician and client-service professional at a busy 24-hour emergency facility. Lauren joined the Cats Only Animal Hospital team in the summer of 2017 as a Client Care Specialist, and has been serving the area's pets and animal owners here ever since.
Away from work, Lauren enjoys visiting family back in Maryland, relaxing on the beach, and exploring the mountains. She lives in North Charleston with her husband, Matthew and their puppy, Harlow.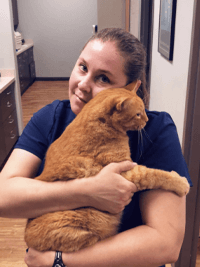 Niki English
Veterinary Technician
Niki grew up in Charlotte, North Carolina with her parents, younger brother, and the constant company of the family pets. She's felt a kinship with animals for as long as she can remember—Niki knew ever since she was a little girl that she would one day work with the earth's creatures. Her dream has come full-circle: she's a Licensed Veterinary Technician!
Niki took a summer job at a local veterinary clinic while earning her degree in biology with an emphasis in animal science at the College of Charleston. It didn't take long for her to fall in love with the veterinary field! Niki decided to return to school to study veterinary technology, and she's been a Licensed Veterinary Technician ever since. She was happy to join the Cats Only Animal Hospital family in January of 2018, where she enjoys staying on her toes with a variety of cases and performing dentistry procedures—Niki is always amazed at the holistic effect that dental work can have on a pet!
Outside of the office, Niki enjoys cooking, reading, and spending time with her family.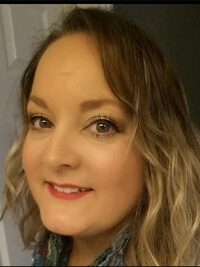 Rita Taylor
Veterinary Technician
Rita grew up right here in Mount Pleasant, where she attempted to bring home every stray or injured animal that she could find. For her, caring for the earth's creatures has been a natural part of life ever since she was a little girl. Rita's passion for pet care has come full circle: she's a Veterinary Technician, and is able to better the lives of animals and their owners every single day!
Rita's veterinary journey began at a local animal shelter, where she served for nearly three years before moving into the field of emergency care. Rita continued her education in Colorado and New Orleans, expanding and honing her skillset on a daily basis, then signed on at a clinic that provided her the opportunity to pursue her studies even further. She attended Purdue University, where she studied veterinary management!
Rita joined the Cats Only Animal Hospital family in 2012 as a Veterinary Technician. She still loves critical care cases thanks to her years serving in emergency medicine, and she's also fond of helping in the surgical ward. Most of all, Rita loves to meet a wide variety of pet and human personalities on a daily basis.
When she's not at work, Rita likes relaxing outdoors and spending quality time with her family and pets. She lives in Summerville with her husband, Matt, as well as their nephew and foster daughter. The family shares their home with a multitude of pets: they have nine dogs—Bella, Boss, Mudge, Vinny, Etta, Ema, Killer, Walter, and Grace—as well as a pair of cats who go by Bam and Al.