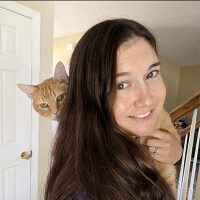 Dr. Alice Bucy
Dr. Alice Bucy always accompanied her childhood pets to her family's local veterinary office, and paid close attention to what the professionals there did to help animals live happier and healthier lives. The way that the vet helped to calm down pets and owners as well struck a chord with young Dr. Bucy—she knew that she wanted to perform the same service when she got older! Dr. Bucy hasn't looked back since, and she's proud to now serve as a veterinarian with the Cats Only Animal Hospital team.
A native of Charlotte, North Carolina, Dr. Bucy secured her very first job as a Kennel Assistant at her local vet clinic. She quickly worked her way up to a Technician and Surgical Assistant position, gaining even more hands-on experience in the world of animal medicine. After completing her undergraduate studies, Dr. Bucy headed to North Carolina State University's College of Veterinary Medicine to earn her Doctorate and become a licensed veterinarian.
After serving pets and owners at a small-animal practice in North Carolina for nine years, Dr. Bucy moved to Mount Pleasant in the summer of 2017. She brought her own cats here to the clinic for a checkup, and wound up loving the practice so much that she inquired about a job! The rest is history—Dr. Bucy now serves as a Relief Veterinarian with the hospital team. She has particular interests in preventative medication, client education, animal behavior, and hospice care.
When time permits away from the office, Dr. Bucy enjoys hiking and camping in the great outdoors, knitting, making her own soap and candles, traveling, and reading. She and her husband share their lives with two wonderful cats: Hobbes, who Dr. Bucy adopted during her veterinary school years; and Elora, who was relinquished to Dr. Bucy's previous employer by the local Animal Control office and was rescued after receiving hands-on treatment from Dr. Bucy herself!