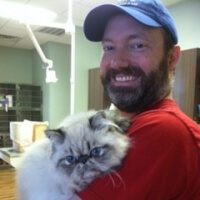 Dr. Ben Fuller
Dr. Ben Fuller feels that one quote from Antoine de Saint-Exupéry's The Little Prince sums up his decision to become a veterinarian: "People have forgotten this truth. But you mustn't forget it. You become responsible forever for what you've tamed." To Dr. Fuller, his career in veterinary medicine is much more than a job. It's his ultimate obligation to help us live in harmony with animals as joyfully as possible!
Dr. Fuller was born and raised in Columbia, South Carolina, where he grew up with plenty of family pets and was introduced to the medical field early on by his grandfather, who worked as a physician and occasionally tended to his own dogs. Before entering the world of animal care, Dr. Fuller graduated from Washington and Lee University in Lexington, Virginia with a degree in business administration, then began working in the tourism and resort industry. He spent two years in Vail, Colorado before working on Kiawah Island, South Carolina for the next four.
While on Kiawah Island, Dr. Fuller started taking prerequisite veterinary classes at the nearby College of Charleston. It didn't take long for him to realize he'd found his true calling—Dr. Fuller moved back home to Columbia and continued taking classes at the University of South Carolina while beginning to work as a veterinary technician. Shortly afterward, he was accepted into the University of Georgia's College of Veterinary Medicine to earn his DVM degree.
In 2011, Dr. Fuller was looking for a change of scenery. He had been working at a small-animal practice and had become disillusioned with the corporate world of veterinary care – that's when he joined Cats Only Animal Hospital and found the type of environment he was looking for.
It just so happened that Cats Only Animal Hospital's previous owner was looking to ease into retirement after 30 years of practice. In 2013, Dr. Fuller took over ownership duties that fall and has happily been serving the pets and animal owners of the area ever since.
Medically, Dr. Fuller is particularly fond of internal medicine cases and dentistry work. For him, solving these problems is like a puzzle—cats certainly won't give him much to go on, and figuring it out himself is quite rewarding!
In his time away from the clinic, Dr. Fuller enjoys snowboarding and mountain biking, golfing whenever he gets the chance, watching football, eating and cooking barbeque, and brewing his own beer. He lives with his wonderful wife, Lucy, who also works as a veterinarian, as well as their young daughter, Grace. The family shares their home with several pets: Goose, a Labrador/Corgi mix; an Australian terrier named Fish; and four cats named Kitty, Tina, Loki, and Watson.