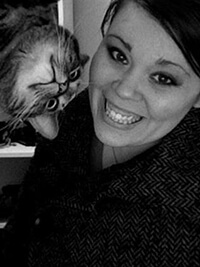 Lauren Giove
After working in a few corporate jobs with her communications degree, Lauren found that she wasn't fulfilled when she left the office every day. That's when she decided to take a step back and consider what she was truly passionate about—it didn't take long for Lauren to decide that a career in veterinary medicine was the perfect path!
Lauren is from Columbia, Maryland and attended Towson University for her collegiate studies. She began her journey in animal care when she signed on with a general practice in 2013, then moved to Charleston in 2015 and worked as a Veterinary Technician and client-service professional at a busy 24-hour emergency facility. Lauren joined the Cats Only Animal Hospital team in the summer of 2017 as a Client Care Specialist, and has been serving the area's pets and animal owners here ever since.
Away from work, Lauren enjoys visiting family back in Maryland, relaxing on the beach, and exploring the mountains. She lives in Summerville with her boyfriend, Matthew.