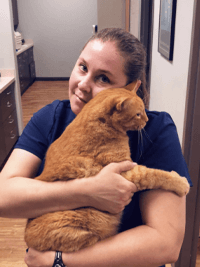 Niki English
Veterinary Technician
Niki grew up in Charlotte, North Carolina with her parents, younger brother, and the constant company of the family pets. She's felt a kinship with animals for as long as she can remember—Niki knew ever since she was a little girl that she would one day work with the earth's creatures. Her dream has come full-circle: she's a Licensed Veterinary Technician!
Niki took a summer job at a local veterinary clinic while earning her degree in biology with an emphasis in animal science at the College of Charleston. It didn't take long for her to fall in love with the veterinary field! Niki decided to return to school to study veterinary technology, and she's been a Licensed Veterinary Technician ever since. She was happy to join the Cats Only Animal Hospital family in January of 2018, where she enjoys staying on her toes with a variety of cases and performing dentistry procedures—Niki is always amazed at the holistic effect that dental work can have on a pet!
Outside of the office, Niki enjoys cooking, reading, and spending time with her family.